The Tateyama Kurobe Alpine Route from Shinano Omachi
Shinano Omachi has excellent access to Kurobe Dam. Acting as an entrance to the Tateyama Kurobe Alpine Route that runs through the Japan Alps, Ogisawa Station is about 30 minutes by car from the city center. From there, change to an electric bus for a 15-minute ride that will bring you to Kurobe Dam, which has a beautiful arch across the Kurobe Gorge.
About Shinano Omachi
The city is located at the base of the Northern Japan Alps, with Hakuba to the north and Toyama Prefecture to the west. An environment blessed with an abundance of nature, the passage of time is so soothing you will find yourself wanting to take deep breaths, and you can enjoy leisure activities here year-round. The lovely urban area where snowmelt flows is dotted with historic places. This mountain city has plenty of charm.
Shinano Omachi's Attractions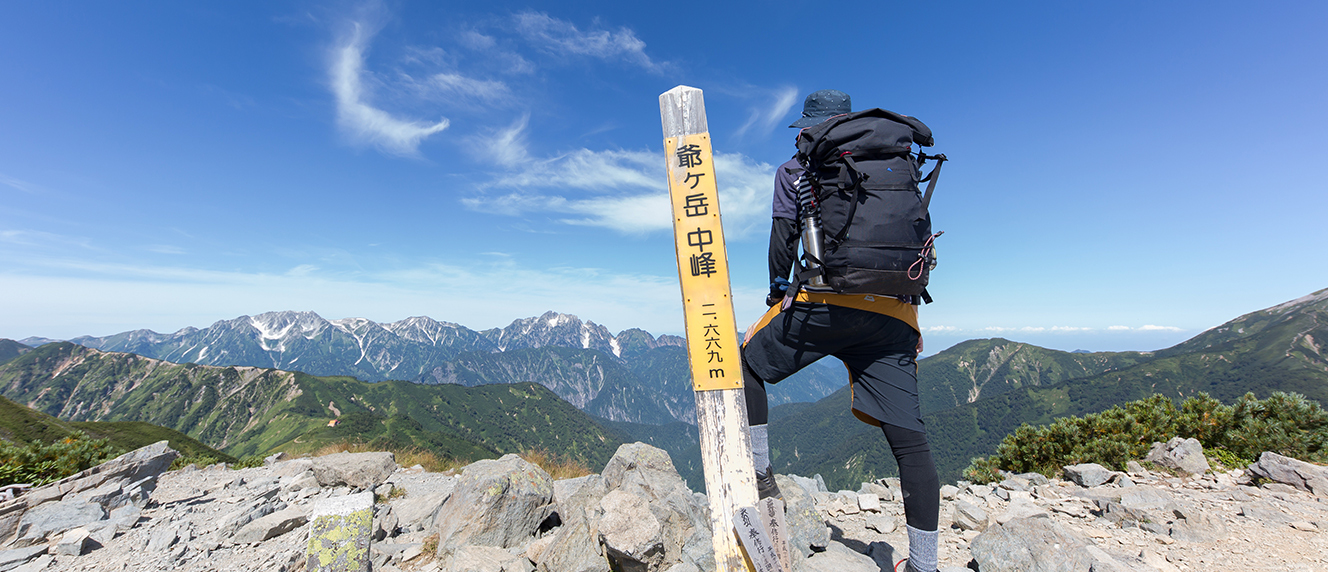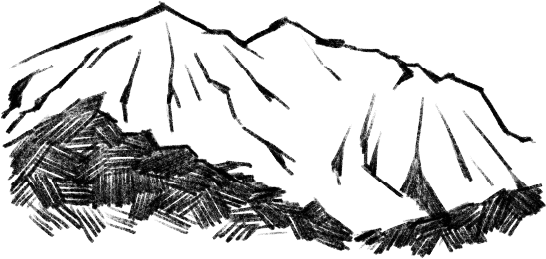 Mountains
We maintain an environment where men and women young or old can enjoy mountain climbing and hiking. From spring to summer, there are lush green plants and flowers of all colors, while in autumn, the place seems ablaze with fall leaves as far as the eye can see. If you are lucky, you might encounter rock ptarmigans or Japanese serows, both animals designated as Special Natural Monuments in Japan.
Lakes
Shinano Omachi is proud of the "Three Lakes of Nishina." Lake Kizaki, Lake Nakatsuna, and Lake Aoki sparkle with the water that fills them. You can relax while camping and fishing along the lake shores. And out on the water, you can thoroughly enjoy activities like canoeing and SUP.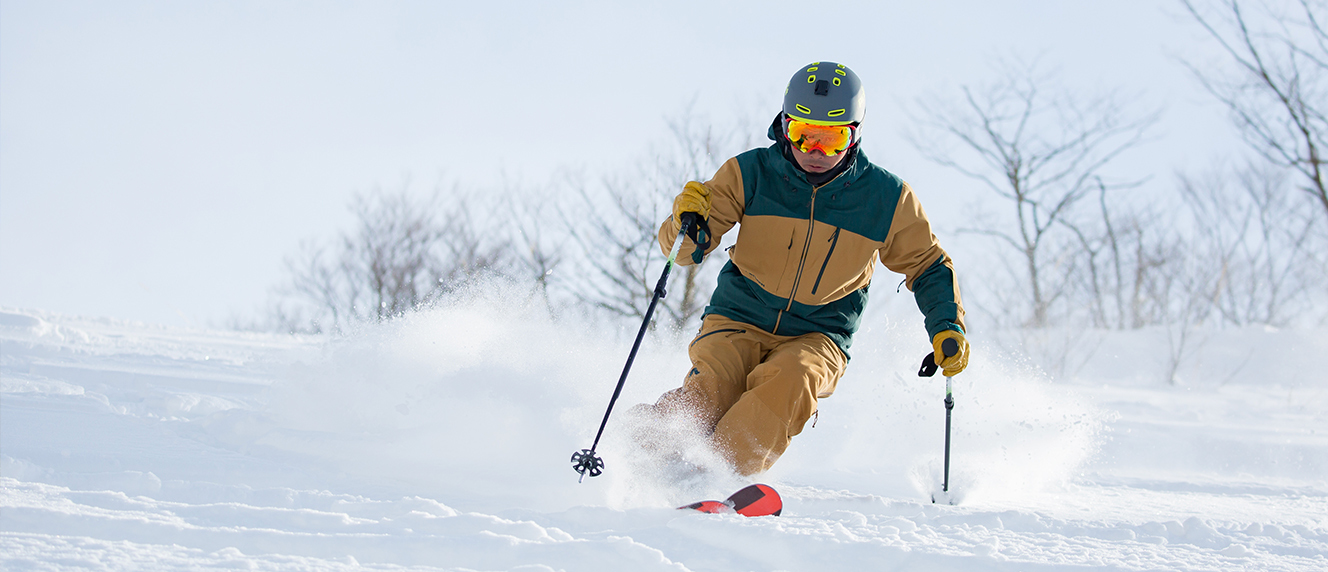 Snow
The Jiigatake and Kashimayari ski resorts, known collectively as "Hakuba Valley," make this mountain resort the focus of international attention. Blessed with an abundance of high-quality powder snow, it is a place to enjoy winter sports to your heart's content.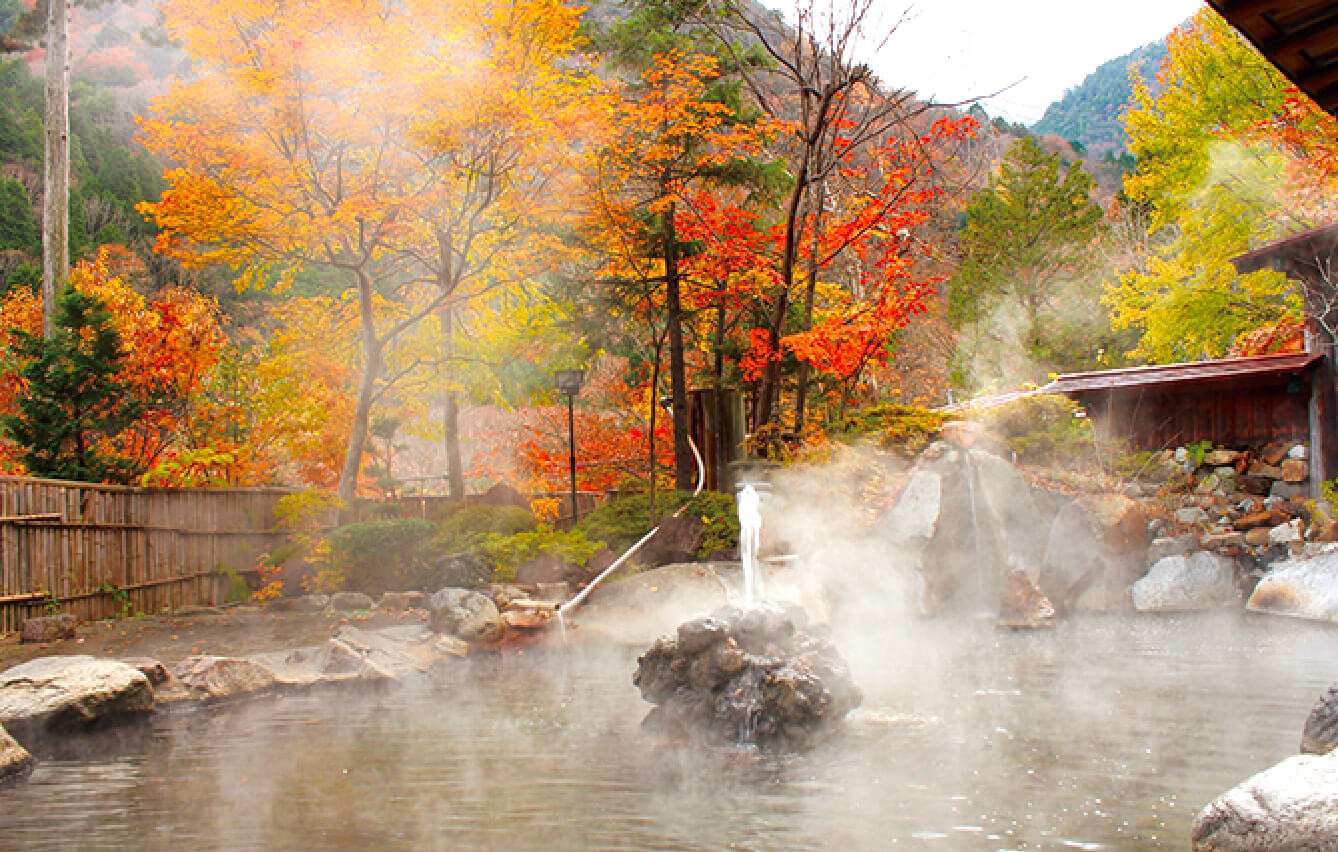 Hot springs
Shinano Omachi has many hot springs where you can soothe your weary body after sight-seeing or mountain climbing. We recommend Japanese inns that pride themselves on their famous hot springs for a visit to the Tateyama Kurobe Alpine Route or as a hub for winter sports.
Cuisine
The cuisine is based on the delicious mountain spring water that flows from the Japan Alps. It gives rise to the deliciousness of so many foods, such as Kurobe Dam curry, coffee at cafes, sweets, soba noodles, mountain herbs, vegetables, local sake, and more.
E-brochure
Omachi City comprehensive brochure
You can digitally experience this brochure published by Omachi City. Since you can download it on your smartphone, we hope it will act as both a tool for making plans for a trip that will both fill you with ideas about Shinano Omachi and serve as a companion on your trip.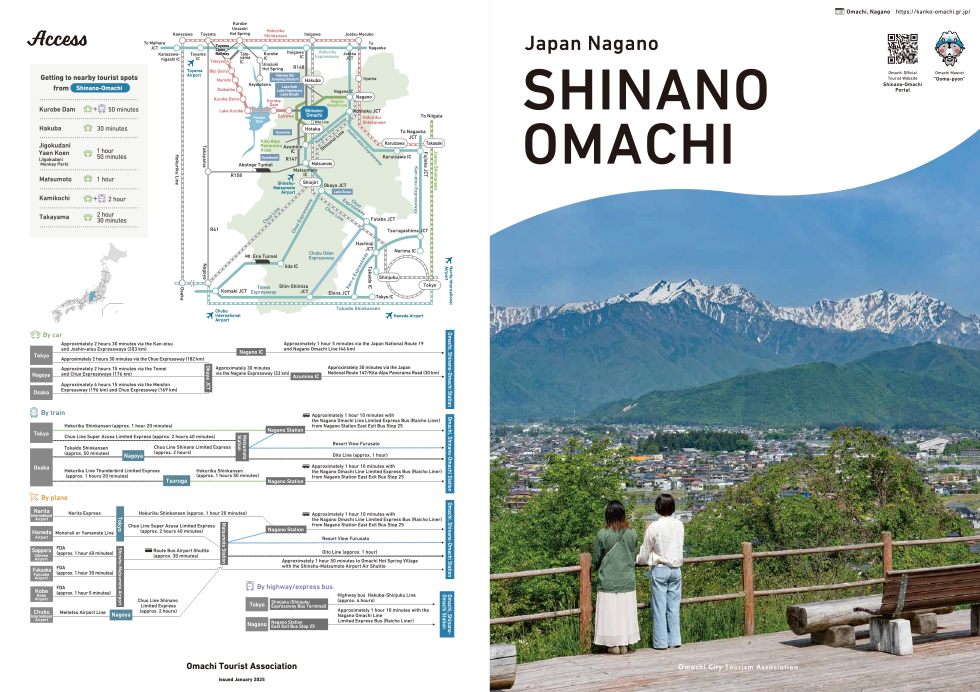 Nearby Sightseeing Spots
Recommended sightseeing spots
you can reach from Shinano Omachi
Inquiry
[ Omachi city tourist association ]
Address: 3200 Omachi, Omachi City, Nagano 398-0002, Japan
Hours: 8:30 - 17:15
Closed: Dec 30 - Jan 3